1pr 7 JTX LED Headlights PINK Ford Cortina Mk1 Mk2 Escort Lights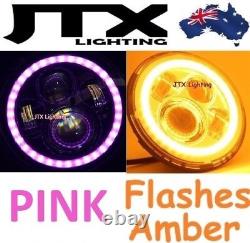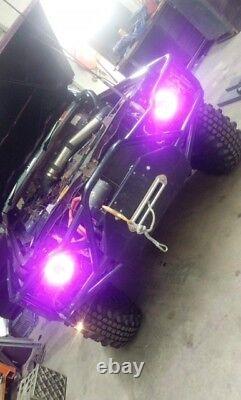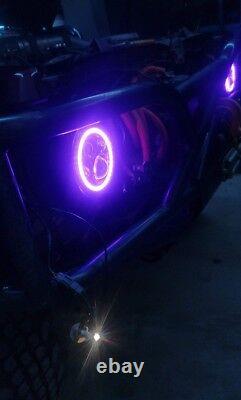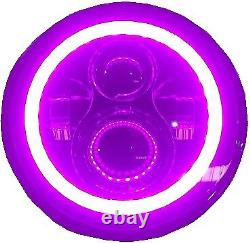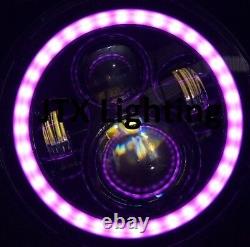 JTX7BPA - 7 LED Headlight, Black Face, Pink Halo, Flashes Amber. This is a pair of lights - that is 2 x lights. So think of it as each pair or a Qty x 1 pair. Our customers give######xA0;a 12 out of 10 for low beam because it's well beyond their expectations. High beams rivals spot lights and way better than standard high beam.
All of our JTX LED headlights are plug and play using your regular 3 pin H4 socket. Only if you have a Toyota, Datsun or Suzuki you will need our new Smart JTX CANBUS load modules which solve negative switching, reverse polarity, providing an earth for DRL to work as well as spotties######xA0;and blue dash light not coming on. Wiring up the Day Running Lights is very easy They get their earth through the 3 pin H4 headlight socket.
The######xA0;red wire is to power######xA0;the primary DRL colour. Wire that to the parkers or to a power source that comes on with the ignition.
The yellow wire powers the secondary colour which is typically amber######xA0; in which case connect to indicator or to a separate switch if you have a twin colour set up like red and white. JTX LED lights are made by us here in Melbourne. We carry all the components to make up all colour combinations. We make them up and send next day or even same day if we know soon enough. These######xA0;suit Australian left side of road and satisfy the######xA0;requirements of ADR 00/13.
In fact they have the ADR ref stamped on the lens and come with an ADR compliance statement. We have demonstrated the manufacturing process, the Lumens of the chips etc to######xA0;Police and state level departments of transport.
Our JTX lights do not need to be self cleaning or self levelling to comply with ADR 00/13. ######xA0; We are presently undertaking specific lab testing for approval certification process to be extra sure. You cant even break them######xA0;with a hammer. They have######xA0;breathers so as to avoid fogging or condensation and we have a breather######xA0;kit option (just like diff breathers) for the serious off roader likely to do bonnet depth creek crossings.
JTX are the preferred light chosen by the off road racing guys. Other JTX LED Headlight options.. ######xA0; The following 2 lights have no halo at all. Available in either a black face or chrome face. ######xA0; The following lights have Amber as their secondary color.
Optionally connect the yellow wire to the indicator on each side and the halo will######xA0;flash amber with your indicators. ######xA0; Our newest member the Blacked Out Halo looks just like Black No Halo except it does have a White halo and flashes Amber.
When driving it's only legal to have white or amber facing forwards so the answer to having a car with a red theme and wanting red halo is for the halo to be White (which is legal) and at the flick of a switch it's red for when you want to show it off. But there's no indicator with these. Select colours from an infinate spectrum. Have 1 set colour or set up a sequence of different colours.. Fade between colours fast or slow, flash or strobe.
These lights dont flash amber with indicator. Note that the halo on this light is not legal on the roads. The hi and low beams are legal but to remain legal on the road the halo must be off. Here are our conventional 7 Semi Sealed Lights... Semi Sealed lights take H4 3 pin globes.
We offer######xA0;a huge range of H4 globe options... Halogen - 65/55w, 100/90w, 130/90w######xA0; and 130/100w. JTX H4 HID kits - 35w, 55w & 70w.
Semi Sealed (normal) but with LED Halo######xA0. Our 7 Halo lights look and work like normal old headlights. Their crystal reflector manages the light distrubtion really######xA0;well too. They are ADR approved and allowed in every state. They######xA0;have a string of 36 very bright LEDs around the outside. You can make them come on with parkers or could have their own switch inside the car. Popular with the trucks, USA imports and stand out cars. Vertical dispersion ripples in the glass spread the light wide. Smooth glass so no light scatter makes these ideal for H4 HID or LED globes. Reflector has prismatic patter to control light direction for all purpose applications. Smooth glass so no light scatter. Smooth reflector so no light dispersion - 100% focus forwards. Ideal High beams in trucks with a second set of 7. Sealed Beam lights have the globes built inside during manufacture and they are totally sealed.
There is no air or oxygen inside them so they cant rust inside. No water can get in so they are popular with the offroad enthusiast likely to negotiate deep water. Historically this was the original light in a lot of cars and so we sell a lot to people who want to freshen up with the same again. These are ADR compliant, E stamped and legal in all states.
No wiring upgrades required with these. Is an Australian family business and have been long time specialists in lighting products for cars, trucks, 4WD's and######xA0;bikes. Whether you need to just replace a blown globe, want brighter lights, upgrading spotties with insanely bright HID or out to######xA0;enhance the look of your ride JTX Lighting can rescue the######xA0;night. ####x200B;####x200B;####x200B;####x200B;####x200B;####x200B;####x200B.
When Steve is not making cool lights he's either building air suspension kits (AAA Suspension) for utes and commercial vehicles or running Cliffhanger which is Austrlaia's biggest week long offroad event. Hence his connection with all the offroad guys and them running JTX lights. If you ordered######xA0;the wrong size or type then we will swap it over.
It's not a problem. All of our items have a. Send the old part back to us for testing and we######xA0;repair or replace it. ######xA0; We can make sure you send the right part back by asking you to do a few simple tests.
####x200B;####x200B;####x200B;####x200B;####x200B;####x200B;####x200B;For a lot of our products we actually make or assemble them right here in our Melbourne facility so we would have the parts and technical skill to make sure you are totally looked after. We use regular Aus Post.. ####x200B;####x200B;####x200B;####x200B;####x200B;####x200B;####x200B;####x200B;####x200B;####x200B;####x200B;####x200B;####x200B;####x200B. When you check out you may upgrade to Aus Post Express######xA0;which costs just a bit more.
All of our stock is here in Australia and ready to send to you straight away. In the very unlikely event that your item is lost or damaged during post, then WE are responsible and will make sure a replacement is sent. We are based in Melbourne and all of our stock is here in Melbourne. So you will get your goods within a matter of days. This item is in the category "Vehicle Parts & Accessories\Car & Truck Parts & Accessories\Lighting & Bulbs\Headlight Assemblies". The seller is "jtxlighting" and is located in this country: AU. This item can be shipped worldwide.
Housing Colour: Black
Placement on Vehicle: Front
Voltage: 12 V
Bulb Shape Code: H4
Manufacturer Part Number: JTX7 LED Headlights
Features: DOT-Certified, Halo Headlights, SAE-Certified, Sealed Assembly
Light Colour: Cold White
Type: Headlight Assembly
Number of Bulbs: 4
Universal Fitment: Yes
Lens Colour: Clear
Items Included: Headlights
Wattage: 36 W
Reference OE/OEM Number: JTX7 LED Headlights
Manufacturer Warranty: Lifetime
Lighting Technology: LED
Brand: JTX Lighting
Colour Temperature: 5000K