# 56-9075 Custom Air Filter Assembly fit FORD Capri Cortina Escort II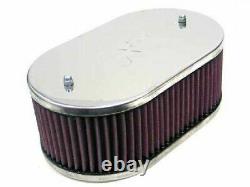 # 56-9075 Custom Air Filter Assembly fit FORD Capri Cortina Escort II. To Supply ONE of the following.
GET THE CORRECT PART FIRST TIME. PLEASE MAKE SURE YOU CHECK THE NOTES SECTION TO THE LEFT OF COMPATIBILITY TABLE. K&N Filters has been designing and manufacturing performance air filters since 1969. We have designed and manufactured over 2400 high flow air filters to fit most of the latest passenger vehicles and over 500 performance AIR INTAKE SYSTEMS for automotive and motorcycle owners interested in increasing vehicle horsepower and acceleration.
K&N also makes thousands of racing and speciality type air filters and we are the #1 Filter in NASCAR. K&N automotive OE (original equipment) replacement air filters generally add 1 to 4 horsepower to your vehicle, due to the unique characteristics of our filter media.
K&N air filter media was originally developed in the dust, sweat and tears of desert motocross racing. K&N air filters were created for an environment that required maximum horsepower and acceleration while protecting the engine from the dirt and dust of off-road racing. This resulted in an air filter designed to achieve high, virtually unrestricted air flow while protecting your engine for the life of your vehicle. K&N washable and reusable air filters are made up of four to six layers of cotton gauze layered between two sheets of epoxy-coated wire mesh. The media is pleated and oiled to enhance overall filtration and performance.
Air Filter Filtration & Engine Protection. K&N air filters offer an optimal blend of high air flow, filtration efficiency, durability and dust capacity.
K&N high flow filter media has been tested in our own in-house laboratories and by independent labs using the ISO5011 air filtration standard developed by the Society of Automotive Engineers. Our goal at K&N is to design air filters with the most possible airflow while providing guaranteed engine protection. A K&N air filter is designed with four to six layers of cotton gauze media sandwiched between two aluminum wire screens. The cotton media is then treated with a specially formulated grade of filter oil that causes tackiness throughout the cotton's microscopic strands. The cotton in a K&N air filter allows high volumes of airflow, and when combined with the tackiness of the filter oil creates an efficient filtering media that ensures engine protection.
K&N is dedicated to providing quality air filter products that meet or exceed your high performance and high filtration demands. K&N uses independent testing labs in addition to conducting tests using our own state-of-the-art in-house testing laboratory. The quality of K&N air filters can also be seen outside the laboratory.
K&N washable and reusable air filters are handmade in the USA and United Kingdom using only the finest materials. It is almost impossible to wash your K&N air filter or air cleaner too much. K&N washed and re-oiled one K&N air filter more than 100 times, inside our testing laboratory, and it still performs up to specification. K&N air filters can go up to 50,000 miles between cleaning, depending on your driving conditions.
To clean and re-oil your K&N air filter, use a K&N Air Filter Cleaning Kit and use the easy to follow instructions. Fuel economy testing and mileage claims are not as cut and dry as they may seem. The EPA's website states, EPA's fuel economy estimates are designed to allow consumers to comparison shop. This is based on a number of factors, such as weather, road conditions, your driving and maintenance habits, and your use of air conditioning.
Many exaggerated claims are found in the marketplace by automotive products claiming to improve vehicle gas mileage. K&N does not make any general fuel economy claims. We simply encourage you to try our air filter products for yourself. K&N warrants its street vehicle OE (original equipment) replacement air filters for one million miles. At times, the performance aftermarket has been plagued by automotive manufacturers and auto dealers that may attempt to discourage you from modifying your vehicle.
We believe K&N makes The World's Best Air Filter and we stand behind that claim 100 percent. Designed to Increase Horsepower & Acceleration. Hundreds of Shapes & Sizes for Most Applications. High Flow Air Filter with Excellent Filtration. Washable & Reusable Air Filter Media.
The K&N Washable Cabin Air Filter is the first of its kind designed to replace your vehicle's stock cabin air filter with a washable and reusable version that cleans and freshens incoming air. Watch the K&N Washable Cabin Air Filter Overview video for more information on how cabin air filters work. K&N Cabin Air Filters are designed to be cleaned and reused over and over again. Using a combination of an advanced synthetic filter media and K&N RefresherT spray, the K&N Washable Cabin Air Filter grabs and holds dust particles. Does your vehicle have a cabin air filter?
Since automotive cabin air filters have only recently been integrated into US automobile AC/heating systems, many vehicle owners do not realize their car is equipped with a cabin air filter. To determine if your vehicle has a cabin air filter you would first check the owner's manual.
You can also inspect the vehicle for the location of the cabin air filter which is typically found in one of these three places. Under the hood, near the windshield. Cleaning the K&N Washable Cabin Air Filter.
K&N recommends servicing your Washable Cabin Air Filter every 12 months or 12,000 miles. This is similar to the typical recommended replacement interval for a disposable cabin air filter.
Cleaning your K&N Washable Cabin Air Filter requires the use of a K&N Refresher Kit by following these simple steps: 1. Remove the filter from your vehicle 2. Spray the cabin filter cleaner onto the filter 3. Rinse the filter with water to remove all dirt 4.
Dry naturally for 20-30 minutes 5. Apply K&N cabin air filter RefresherT to the filter media 6. Re-install the filter back into your vehicle. K&N cabin air filter cleaning kits come with a 12 ounce pump spray bottle of cabin filter cleaner that loosens dirt and road grime from your K&N cabin air filter and helps remove trapped mold, mildew, fungus, allergens, bacteria and other debris from it. Also included is an 8 ounce pump spray bottle of cabin air filter Refresher which increases the electrostatic properties of the cabin air filter helping it to trap contaminants.
This long lasting formula helps eliminate the source of most odors and it is made from safe, biodegradable ingredients. We pride ourselves on a quality service and we are happy to address any concerns.
This item is in the category "Vehicle Parts & Accessories\Car Tuning & Styling\Air Intake & Induction\Performance Air Filters". The seller is "mjd128" and is located in this country: GB. This item can be shipped to all countries in Europe.
Alternative Part No: 56-9075
Brand: K&N Flters
EAN: 0024844062857
Item condition: New
Manufacturer Part Number: 56-9075
Specification: Bolt On Unit