EBC Front Turbo Groove Disc & Yellowstuff Pad for Ford Cortina Mk4 2.3 (76 79)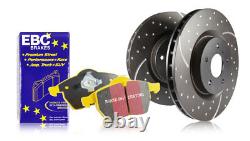 EBC Front Turbo Groove Disc & Yellowstuff Pad for Ford Cortina Mk4 2.3 (76 > 79). This listing is for an EBC Front Brake Kit - Turbo Groove Discs & Yellowstuff Pads The dimple drilled rotor was invented by EBC back in the 90's and has been imitated by many because of its ability to offer pad degassing without through drilling disc or rotor holes which has been shown to promote rotor cracks. The wide aperture slots on the EBC Turbo Grooved Discs actually draw cool air under the brake pad and rotor interface and help cool the temperatures of the pad contact which can shoot up to well over 1000 degrees at the very heart of the brake pad during heavy braking and can cause brake fade or loss of brake effect. These "Full Sweep" slots also help remove dirt, dust, debris and water from the braking area, but without doubt the main benefit of such sport rotors is their ability to maintain a flat and parallel pad surface throughout the lifetime of the brake pad set. Recent European R90 brake safety legislation insists on a very aggressive stress test of all replacement brake rotors.
EBC rotors have passed this test and in the case of the Turbo Grooved design, the brakes were shown to run 100 degrees F cooler than non slotted rotors proving their long made claims that EBC Turbo Grooved Discs run COOLER! The EBC Yellowstuff compound is a true winner all round: it has high friction from cold, not requiring warm up for street use yet when loaded up and really hot the brakes just get better. Even up to truck weights these pads grip and do not heat fade! Perfect for the fastest street use with the occasional track day.
High friction formula improves brake effect 30%. Fastest brake pads for Street, Drift & Race - Zero brake fade makes this material perfect for fastest driving - Capable of repeated heavy brake use without brake "Fall-Off" - Very minimal disc / rotor damage characteristics - Suitable for shorter track events and race use - Medium hardness material feels good at pedal - If all you need is stopping power, this is the material choice - ECE R90 type approved for most cars - Features red "brake in" surface coating for instant safe braking after installation This particular listing is for an EBC Front Brake Kit - Turbo Groove Discs & Yellowstuff Pads to fit the following model: Ford Cortina Mk4 2.3 - Years of manufacture: 76 > 79 This is a Front Disc and Pad Kit containing part numbers DP4291R + GD001 ONLY for models with Girling/TRW Front Calipers This kit contains Solid Front Discs with 4 Bolt Holes Front Disc Diameter = 248mm Front Disc Height = 27mm Front Disc Thickness (Max / Min) = 13/11mm EBC Part Number = PD13KF273.
Since then we have grown to become one of the largest Performance and Styling Centres in the UK, with a huge and ever increasing website, and exporting to every corner of the globe. However, our commitment to service and value has never changed. We have enjoyed such prolonged success because we deliver excellent customer service - day in, day out. Our staff are the most knowledgeable and experienced in the UK. Quotes will therefore always be for an insured courier, or tracked post, depending on the weight and value of the item. For items that are being sent within the UK via 2nd class post, please allow 3-5 days from the date of dispatch before contacting us. We will have entered an approximate dispatch time on each listing. You have 14 days from the date of receipt in which to return your item.