Polyurethane PU Sockets Ford Cortina MK2 Leaf Spring Eye Front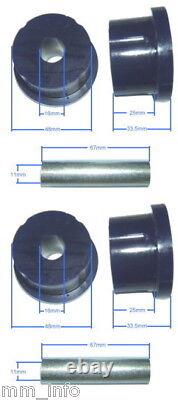 Motorsport Polyurethane Bushings for FORD. Wenn Du denkst Dein Auto liegt schon gut auf der Strasse hast Du DAS noch nicht gestestet. High Performance Polyurethan (PU) Buchsen von SuperPro in 100% TOP-Qualität. Optimale Führung der Fahrwerksteile für bedingungslosen Einsatz auf der Rennstrecke, im Rundkurs, im Slalom- oder im Straßenbetrieb. Nicht zu vergleichen mit oft angebotenen Billig PU-Buchsen.
Im Gegensatz zu sonstigen Herstellern hat nur SuperPro eingearbeitete Fett-Rillen um eine optimale Schmierung zu gewährleisten. If you think Your car works already well on the street, you didn't test THIS. High Performance SuperPro Polyurethane bushings in 100% quality. Optimal tracking of the suspension parts for unconditional operation on the race track or on the street. Not comparable to any other PU-bushes.
In contrast to other manufacturers only SuperPro has built in grease grooves and bullet grooves to provide an optimal lubrication. Hinterachs-Blattfederaugenbuchse vorne in Blattfeder "HD Polyurethan" - Satz mit 2 Stück für 1 Fahrzeug - Dieser Kit enthält die rot gekennzeichneten Buchsen, alle anderen abgebildeten Buchsen sind optional erhältlich. Rear axle - leaf spring eye bushing front inside leaf spring "HD Polyurethane" - set of 2 pieces for 1 car.
This kit contains the bushing which are marked red, all other bushes are optionally available. Passend für / fitting for. Andere Hersteller von PU-Buchsen: Powerflex, Superflex, Polyflex Einbauort: Vorderachse/Hinterachse, Stabi, Stabilisator, Stabilisatorgummi, Querlenker, Motorlager, Schräglenker, Längslenker Fitting places: front axle, rear axle, swaybar, sway bar, stabilizer, track control arm, beam axle, engine steady, torque arm, lateral arm, steering rack and pinion mount, chassis mount, trailing arm. Alle anderen verfügbaren PU-Buchsen für Dein Fahrzeug findest du bei uns im Motomobil Shop.
Wir vertreiben Ersatzteile für alle FORD-Fahrzeuge von Baujahr 1960 bis heute, z. Für folgende Modelle: 12M - 15M - 17M - 20M - 26M - G13 - P2 - P3 - P4 - P5 - P6 - P7 - P7a - P7b - Capri - Escort - Taunus - Granada - Transit - Fiesta - Sierra - Scorpio Suchen Sie ein bestimmtes Ersatzteil, dann besuchen Sie uns auf motomobil com oder kontaktieren Sie uns. Unser Sortiment umfasst Auspuffteile, Auspuffanlage Endtopf Vorschalldämpfer Hosenrohr Bremsklötze Bremsscheibe Bremssattel Bremsschlauch Bremsleitungen Bremsbacken Bremstrommel Radbremszylinder Hauptbremszylinder Bremskraftverstärker Scheinwerfer Blinker Rückleuchten Instrumente Schalter Federbeine Stossdämpfer Feder Tieferlegungsfeder Blattfeder Stützlager Hi-Jackers Stahlfelge Chromfelge Alufelge Minilite Radzierring Radkappe Reifen (auch TRX) Getriebe (Schaltgetriebe & Automatikgetriebe) Heizungskühler Kotflügel Motorhaube Frontmaske Frontschürze Tür Kofferdeckel Heckklappe Seitenwand Heckschürze Türdichtung Kofferdeckeldichtung Frontscheibendichtung.
Heckscheibendichtung Reparaturblech Frontscheibe Heckscheibe Zierleiste Stosstange Lenkung Lenkgetriebe Servolenkung Spurstangengelenk Lenkzwischenwelle Lenkrad Zündschloss Motorteile Motordichtsatz Zylinderkopf Dichtsatz Zylinderkopfdichtung Ölwanne Kupplungsscheibe Kupplungsdruckplatte Ausrücklager Zahnriemen Steuerriemen Schalthebel Wischermotor Wischerblatt Anhängerkupplung Auspuffkrümmer Kolben Zylinderkopf Ventile Ventilfedern Nockenwelle Ausgleichswelle Pleuellager Kurbelwellenlager Ausgleichswelle Ausgleichswellenlager Ölpumpe Stirnradsatz Stirnrad Zündmodul Zündspule Zündkabel Zündkerze Ölfilter Luftfilter Kraftstoffilter Benzinfilter Benzinpumpe Kühler Kühlerschlauch Kupplungssatz Kupplungsscheibe Und alles für folgende Motoren: V4 V6 OHC OHV Pinto Kent X-Flow Zetec Essex Duratec Diesel. You will find all other available PU-bushings for Your car in our Motomobil Shop. We supply spareparts for all FORD models from 1960 up to now. 12M - 15M - 17M - 20M - 26M - G13 - P2 - P3 - P4 - P5 - P6 - P7 - P7a - P7b - Capri - Escort - Taunus - Granada - Transit - Fiesta - Sierra - Scorpio. If you are searching for a specific part, please visit us at motomobil com. Our product range: front axle rear axle swaybar sway bar stabilizer track control arm beam axle engine steady torque arm lateral arm steering rack and pinion mount chassis mount trailing arm tow coupling starter layshaft bearing exhaust system muffler manifold silencer outside mirror window glass gearbox fuel pump turn indicator brake shoes pads caliper drum booster disk air fuel filter thermostat sealing ring gasket kit engine cylinder head oil pan weatherstrip door boot lid timing gear carburetor water pump injection emblem badge plum rim alloy steel lifter crankshaft windscreen front valance anti-freeze plug throttle cable master wheel brake axle differential leaf spring bearing crownwheel pinion bolt nut rubber cardan shaft v-belt dynamo license plate valve lever inlet exhaust rocker shaft clip bumper edge front wing piston oversize ring radiator grille hose fan clutch main big end steering knuckle tie rod bonnet camshaft timing belt cooler oil repair panel tail lamp switch wiper headlamp flywheel bumper fuel tank handle repair kit stabilizer sensor moulding ignition cables spark plug distributor cap arm and everything for the following engines: V4 V6 OHC OHV Pinto Kent X-Flow Zetec Essex Duratec Diesel.