Red Stitch Centre Console & Armrest Leather Covers Fits Ford Cortina Mk1 Mk2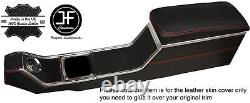 FITS FORD CORTINA MK1 MK2. Please not e this item is for the leather skin fabric part only that has to be gl ue d and trimmed over th e original center console trim & armrest lid. Just to Make sure this item will not come with any fitting instructions on how to remove the center console from your car. For more leather and stitching g options please visit our shop.
Please note that photos are shown for display purposes only. And what you will receive is only the leather part. Our items do not come with any surrounds, gear knob, handbrake leaver or armrest lids.