Underlay & Soundproof Set Handmade to Order Ford Cortina Mk1 & Mk2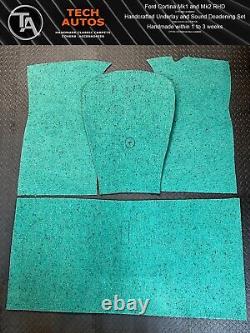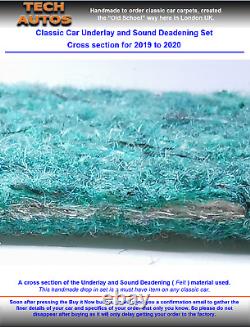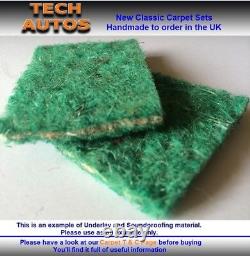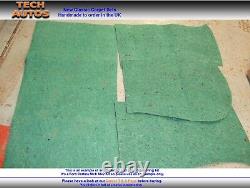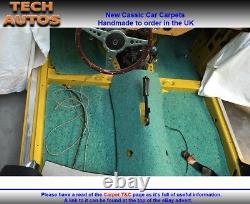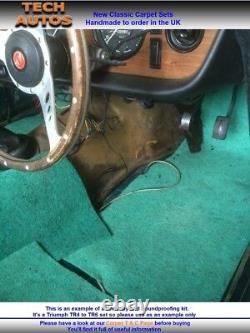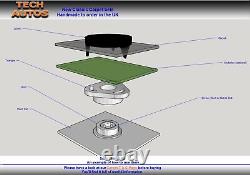 This handmade to order Classic Car Underlay and Sound Deadening Set (Felt) will be handcrafted for you the "Old School" way in Langham, Colchester. We estimate the build time to be. From the time we send you your. For full details, see the.
Please send Josh, a message. If you would like to discuss anything including any modifications, no matter how small, and before ordering. Sadly, due to the current financial climate, we've had no choice but to increase our prices as some of our material costs have risen by over 60% and our electricity costs have doubled and we're due for another price rise soon. Thank you in advance for your patience and understanding, it will make things a lot easier for us all. Handmade to order Classic Car Underlay and Sound Deadening Set.
Your Underlay and Sound Deadening Set will be handcrafte d the. Way by hand at our family run factory with over 40 years of experience in the motor trade.
To order for these cars listed below, just follow the instructions in the. If your car is not listed please send us a message.
And we'll look into it for you. Ford Cortina Mk1 Saloon 2 or 4 Door.
Ford Cortina Mk1 Estate 4 Door. Ford Cortina Mk2 Saloon 2 or 4 Door. Ford Cortina Mk2 Estate 4 Door. The Estate version does not include the Rear Load Area (RLA). If it's had an engine and gearbox transplant, we beed to know before you order. It takes 55 mins to hand cut out and prepare for dispatch. Scroll down to the Carpet Related section where you'll find the three carpet sets and Luxury Over Mat sets we handcraft for your car. Modern Mixed Fibers in Green.
In Colchester CO4 5NE UK in 1 to 3ish weeks. Made in both Left or Right hand drive.
Save yourself a lot of handywork and place this cut to size, ready to drop in, Underlay and Sound Deadening Set under your carpet set. Not only will it reduce noise in your interior and also make your new carpet feel nicer underfoot, it will increase the life of your new carpet set as it's no longer rubbing directly against the floor. Your made to order set will be hand cut and if needed stitched together by us here in Langham Colchester CO4 5NE UK. Our Underlay and Sound Deadening drop in sets are a must have item on any classic car. As a Auto Velour, Hessian Backed and Tufted Deep Pile carpet set may be available, check below in the related section or.
Please follow these simple steps to order your new handmade carpet set using the three drop down menus at the top of the advert.. As you're sitting in your car is your steering wheel on the.. Want to add more Felt to your order so you can cover more than the set provides? Off The Roll OTR at usable 1.45 meters wide in continuous linear meter lengths. If you'd like more than 2 meters, please get in touch.
Questions by whatever means suits you, as these are the minimum we need to place your order with the factory. The factory suggest your order can take up to and around 2 to 5-ish weeks to make and maybe a bit longer in the busy holidays periods.
Please ask any car or carpet related questions you care to by sending us a message. Its best to keep in contact till your order is submitted to the factory. Ultra important to you and us. Only the raw materials are in stock and we make your set upon ordering. Please follow our lead and all will be well...
We really do have your best interests at heart. We're old school and I'm Dyslexic so I (Josh) prefer to chat than to type. I was not born when typing was the norm, so bare with us. I controlled and monitored message service, then please only press the.
Buttons as you'll get your reply or update on your order you want, without inflicting damage to our account. I beg you not to press the. Did it arrive on time. For me that's the loss of my family's home, for no fault of our own.
If you're not on the UK mainland, then you're international. You'll badly affect our account if you do.
Software will bludgeon its way in and ruin everything. Button as that open a case against us... Adds a black mark onto our account for no reason what so ever.
All pictures shown are examples of the quality of workmanship only. If you would like more pictures please send us a message. There is no comparison between us and them. Our sets are handmade in Colchester UK from British and Belgium materials and will last and look great for years to come and not wear out in months. All good things come to those that wait for bespoke handmade carpet sets. Auto Velour Carpet Set Handmade to Order for this car. Hessian Backed Carpet Set Handmade to Order for this car. Tufted Deep Pile Carpet Set Handmade to Order for this car. Tufted Deep Pile Over Mat Set Handmade to Order for this car. We're a small friendly family run business, we hand craft classic car carpets like they were done when your car was new, it's a dying art and something we're proud of doing. We're one of the last hand crafters left in the UK and will spend the next few decades honing our skills and passing on the knowledge. We believe in looking after those that look after us by using modern tools to keep "Old School" customer services and values alive and well. We've been in the car trade for nearly 40 years and have seen all the ways not do it... We're trying to bring back some of the warmth, friendliness and honesty that's been lost in the silent and cold internet text based world, so give us a try, hopefully you'll be pleasantly surprised. As to our opening times. Simply put, none of us like mornings, no other reason, but starting at midday and closing after midnight allows us to help you when you're with the car and not at work.
A win win for all.